At Home with Jenna Cooper
Home is now more meaningful than ever. Home is a sanctuary, it's where we find refuge, comfort, and our loved ones. And now it's also the office, the gym, a school, playground, and more. From Los Angeles to the Bay Area, our agents are adapting their business to serve their clients like never before — from within their own homes. In this series, we take a closer look at a day in the life of our extraordinary Compass agents in the place they know best.
---
Q + A with Compass agent Jenna Cooper
Where's home for you?
Los Angeles! Specifically, the neighborhood of Hancock Park. I've lived in Philly, Phoenix, New Orleans, London and NYC, and this is my number one favorite neighborhood of all time. I also have a trailer in Malibu which is really like a little house that overlooks the ocean and PCH.
What hats are you wearing at home these days? (Example: real estate agent, parent, teacher, yogi, chef de cuisine, etc.)
Ha! Many. I am a mother of teenage twins, golden retriever wrangler, a real estate agent, house flipping partner/wife, shopkeeper and wannabe insta-influencer.
Tell us about a recent deal or client service. How did you/your clients overcome obstacles? What was the outcome?
I like to help clients find the perfect house and then introduce them to the architect, designer, or landscaper they need to help take their vision to the next level. I am also a micromanager control freak when it comes to the details that must come together to get a house ready for market. I oversee the staging, photography, marketing and the overall story we are telling with each house we present.
What is your favorite feature of your own home?
My garden – I love, love, love, to be outside. I am a compulsive plant grower. I plant a veggie garden every season and I collect old roses and special specimens. I usually end up rescuing them from the houses I sell. My most recent treasure was a very rare succulent from Stockard Channing's garden.
Have you redecorated or undertaken any DIY projects in the past year?
Aside from moving every piece of furniture in my own house around on a continual basis, yes! I recently purchased a sweet craftsman cottage just 5 minutes away from my house. My team and I are doing some light renovations using some of our favorite brands. It's full of incredible plants and has the most magical garden – by some miracle, it's the perfect place to feel far away from the noise of the city.
What is the one room you can't live without?
My bathtub. Is that a room?
What do you look for in a home?
I care a lot about architectural integrity and honoring the original details of a house. I think houses have a soul and I'm drawn to ones where you can feel that when you walk in. As much as I am representing my clients – I also think my biggest responsibility is to the house itself. I try very hard to make sure the right people end up in the right places.
Do you have a favorite architectural style?
I don't. I can fall in love with any style, as long as it's got that special something.
What evergreen advice do you always give your clients?
Buyers: Try to buy a good floor plan. Most everything else can be changed. Also, I make sure everyone sits down on a chair to look out the windows. If they are happy with that POV, it's a go.
For Sellers: I say declutter! Get rid of ⅓ of what you have in your house. And make sure the garden looks great.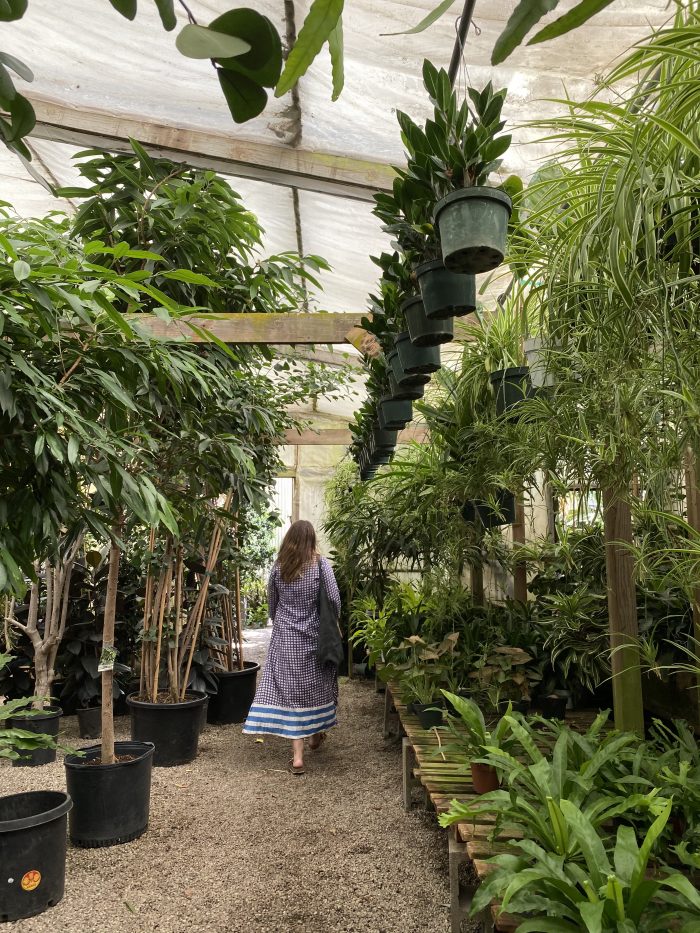 Do you have any favorite local businesses?
LA:
For home: +COOP, Nickey Kehoe, and Garde all on Beverly Blvd.
Clothes: Noodle Stories or Lost & Found in town
Food: Angelini Osteria for every meal!
MALIBU:
For home: Inner Gardens, Thorne Family Farms
Clothes: Sunroom
Food: Lily's
How did you find your way to your career in real estate? Why do you stay?
My husband and I were house shopping and I wanted to learn the process. I didn't really connect with the agents in my area and I wanted to feel like an insider. I got my license so I could represent myself. I quickly realized that selling real estate was more satisfying than producing movies (which had been my career for the previous 10+ years.). It relies on the same skill set of matching material (houses instead of scripts) with people (clients instead of actors and directors). Luckily, I live in a town with very interesting people and houses. Every day is a new adventure and it's NEVER boring. Oh yeah, and I love to shop. House hunting is the ultimate shopportunity.
What trends have you noticed among homebuyers lately? What is the most wished for home feature?
Flexible space, room to work from home, and a larger lot-to-house ratio. Living in LA, the outdoor space is like another room, so it really has to make sense and be highly functional. People come to me looking for something very special and aspirational. It's fun to help them find it.