Bay Area Homebuyers Are Rarely Denied Mortgages
Homebuyers in San Jose had the lowest mortgage-denial rate in the nation in 2016, at 5 percent.
Applicants' excessive debt-to-income ratios is the main reason for mortgage denial in San Jose, San Francisco, and Los Angeles, cited by about one-third of lenders.
Other reasons that Bay Area mortgage seekers are likely to be denied are incomplete personal information and credit applications, as well as insufficient cash to cover the down payment.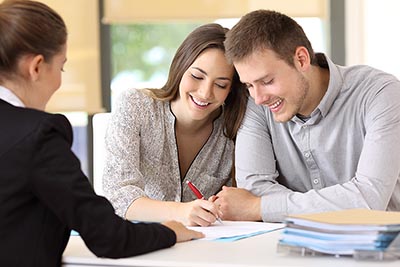 Although prospective homebuyers in the Bay Area's two largest cities are among the least likely in America to face mortgage denials, when they do, it is usually for three specific reasons.
That's according to a new analysis by LendingTree, which examined more than 10 million mortgage applications across 50 U.S. cities to find out where buyers were most and least likely to be denied home loans and the main reasons for the rejections. Nationwide, nearly one in 10 applicants, or 8 percent, were denied a mortgage in 2016, the most recently available data. For applicants who were denied mortgages, poor credit and high debt-to-income ratios were the top reasons, cited by 26 percent of financial institutions.
San Jose mortgage applicants were the least likely in the country to be denied, tying those in Minneapolis and Salt Lake City at 5 percent. San Francisco applicants fared nearly as well, with a 6 percent mortgage-rejection rate.
Still, when Californians are denied mortgages, too much debt is the most likely reason, which LendingTree notes is a by-product of the region's high cost of living. About one-third of applicants in Los Angeles, San Jose, and San Francisco were denied mortgages because of excessive debt-to-income ratios, the most in the U.S.
Unverifiable information — such as credit references, employment details, and income — is another reason that lenders are likely to reject Bay Area mortgage applicants, cited as the reason for 7 percent of denials in San Jose and 6 percent in San Francisco. Incomplete credit applications are also an issue in San Jose, resulting in 18 percent of mortgage denials.
While less of an obstacle than debt or spotty information, insufficient cash for a down payment and closing costs can also hinder hopeful Bay Area homebuyers from obtaining a mortgage. A lack of cash caused lenders to turn away 3.8 percent of applicants in San Jose and 3.4 percent in San Francisco.
It's somewhat surprising that a lack of down-payment funds did not prevent more Bay Area buyers from obtaining a mortgage, given how large of a sum that can be. According to an ATTOM Data Solutions report published last fall, San Jose and San Francisco homebuyers placed the largest down payments in the nation in the second quarter of 2017, a respective $242,000 and $176,000.
LendingTree offers prospective homebuyers a handful of sensible tips for getting approved for a mortgage, including reviewing credit reports, paying off debt before applying, and gathering all personal information in advance of meeting with a loan officer.
(Image: iStock/AntonioGuillem)