California's Luxury Home Market Was Red-Hot in 2017
The median price for a U.S. home grew at a faster rate than prices in the luxury segment last year.
Marin County was one of 12 U.S. luxury housing markets to post double-digit percent annual appreciation.
San Mateo, Marin, San Francisco, and Santa Clara counties are among the nation's 10 most expensive luxury residential real estate markets.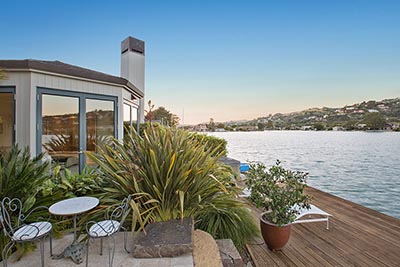 Although demand for luxury homes slowed a bit nationwide last year, California markets remained hot, despite some of the highest prices in the country at that segment.
According to recent research from realtor.com, the median sales price for a luxury home — defined as the top 5 percent of properties by sales price — was $804,000 in 2017, a year-over-year gain of 5.14 percent. Luxury homes took an average of 116 days to find a buyer, 5.35 percent longer than in 2016.
"Age of inventory in the top 5 percent of the market slowed significantly over last year — a telltale sign that the supply in the luxury sector continues to outpace demand," realtor.com Director of Economic Research Javier Vivas said. "Much of this slowing can be attributed to a wider selection of luxury homes for buyers and increased uncertainty over the last 12 months."
The overall U.S. housing market outperformed the luxury sector in 2017, with the $235,000 median sales percent up 6.90 percent on an annual basis. The typical American home sold in 71 days, 7.33 percent faster than in 2016.
Demand for luxury homes in the Bay Area remained robust last year, particularly in Marin County, where prices were up by 11.63 percent from 2016. Marin was one of 12 U.S. counties to see entry-level luxury prices grow by double-digit percentage points year over year, and most of the others are primarily considered second-home markets.
Marin County was also one of the country's most expensive luxury-home markets, with a 2017 median sales price of $3,288,800, ranking it No. 3. California accounted for half of the 10 priciest U.S. counties in which to buy a luxury home: No. 2 San Mateo ($3,370,700), No. 4 San Francisco ($3,212,200), No. 6 Santa Clara ($2,582,300), and No. 8 Santa Barbara ($2,471,500).
(Photo courtesy of Nan and Link Allen)