Five Bay Area Counties Surpass All-Time Home Price Highs in February
The median sales price for a single-family home in the nine-county Bay Area was $893,690 in February, an annual gain of nearly 14 percent.
Home prices rose by double-digit percentage points in seven of nine Bay Area counties from February 2017.
The median sales price surpassed its previous peak in San Francisco, San Mateo, Santa Clara, Marin, and Sonoma counties.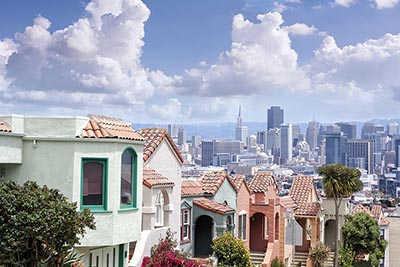 The Bay Area posted double-digit percentage point annual home price gains last month, with five local counties setting new record peaks due to continually shrinking inventory conditions.
That's according to the latest homes sales and price report from the California Association of Realtors, which puts the median sales price for a single-family home in the state at $522,440 in February, up 8.8 percent year over year. In a statement accompanying the report, CAR Senior Vice President and Chief Economist Leslie Appleton-Young said that rapid single-family home price appreciation is causing more buyers to opt for condominiums, pushing prices to a new record high of $461,400, an annual gain of 13.3 percent.
In the nine-county Bay Area, the median sales price for a single-family home ended February at $893,690, up 13.9 percent on a yearly basis. Prices rose in all local counties, with seven of them reporting double-digit percent year-over-year appreciation. Growth was highest in San Francisco and Santa Clara counties, a respective 35.6 percent and 25.8 percent.
San Francisco's considerable annual appreciation pushed the median sales price to $1,730,000 — a new peak — to make it the state's most expensive real estate market in February. Four other Bay Area counties also set record price highs last month: San Mateo ($1,610,000), Santa Clara, ($1,383,500), Marin ($1,371,000), and Sonoma ($689,000).
Although more homes in the nine-county Bay Area hit the market than in the inaugural month of 2018, the monthly supply of inventory was down year over year, ending February at 2.6. That trend mostly held true across individual counties, with only San Francisco seeing a very slight improvement from one year earlier.
Santa Clara and San Mateo counties had the fewest number of homes for sale in the state, with the monthly supply of inventory a respective 2.0 and 2.1. Those two counties also had California's fastest pace of sales, with homes selling in a median eight days in Santa Clara County and 10 days in San Mateo County.
Despite tight supply conditions, Bay Area home sales increased by 7.1 percent from one year earlier in February, with every county except San Francisco registering gains. CAR President Steve White attributed the uptick in activity to rising mortgage rates motivating buyers to act before they move even higher. According to numbers from Freddie Mac, 30-year, fixed-rate mortgages averaged 4.44 percent for the week ended March 15, the first time this year they have declined from the previous week.
(Photo: Bojan Bokic)