MAD Architects complete Gardenhouse, redefining luxury in Beverly Hills
A modern-day hillside village, Gardenhouse is MAD Architect's first US project and features the country's largest living wall.
Internationally acclaimed Ma Yansong of MAD Architects has reached a significant new milestone: the completion of the five-level, 48,000-square-foot architectural masterpiece in Beverly Hills. Comprising 16 residences — five Sky Villas, three Row Houses and eight Garden Flats — Gardenhouse is reinventing Beverly Hills in a modern, contemporary form.
"Residents will enjoy a living piece of art that connects them to nature in an architecturally significant way, with unparalleled access to the very best of the city, including access to Beverly Hills' highly regarded dining, retail and wellness offerings," Compass agent Don Heller, the exclusive sales partner for Gardenhouse, said.
Each distinct penthouse, townhome and residence draws nature into the living experience with airy, contemporary spaces and barrierless transitions between indoors and out.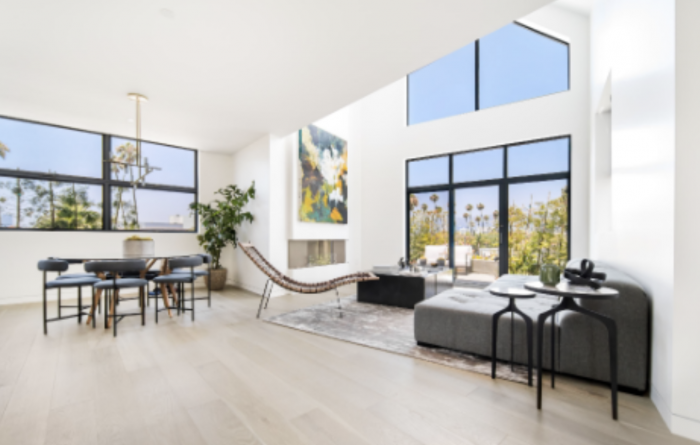 Centrally located in Beverly Hills, the exclusive residential enclave is within minutes of the city's most acclaimed cultural destinations, while the living wall and "village on a hill" design transforms the Wilshire Boulevard streetscape.
"Gardenhouse represents a unique opportunity to impact not only the architecture of Los Angeles but to introduce a new paradigm of living on the West Coast where humans are more emotionally connected to nature, particularly in high-density cities like Los Angeles," Ma Yansong, Founder and Principal Partner of MAD Architects, said. "We are elated to see Gardenhouse reach completion and hope that future residents will appreciate the conveniences of living in harmony with nature."
Garden Flat Collection
The Garden Flats are centered around the outdoor living experience, with a thoughtful balance between vast windows and gallery walls suitable for an extensive art collection. With up to 2,500 square feet of living space, these three-bedroom residences are configured generously on a single level with ample space for dining and entertaining. The interiors transition effortlessly onto private balconies and terraces, which connect to the interior courtyard.
Row House Collection
An exclusive trio of residences on Charleville Boulevard, the Row House Collection features three-story floor plans of up to 3,100 square feet and private three-car garages directly accessed from each residence's private lift. Adding to the level of luxury are spacious private full-floor master suites, fireplaces, powder rooms, formal and informal living spaces and upper-level great rooms with chef's kitchens and walk-in pantries. Showcasing a seamless indoor-outdoor design, the Row Houses provide a variety of outdoor living spaces, including terraces and balconies and landscaped front entries on Charleville Boulevard.
Sky Villa Collection
Perched on the upper levels of Gardenhouse, the Sky Villas boast abundant natural light, beautiful gathering spaces, and expansive views across the city. Each of these two-story, three-bedroom residences features soaring ceiling heights, floor-to-ceiling windows, and custom-designed sculptural staircases connecting lower and upper floors. The Sky Villas are appointed with spacious interior living spaces of up to 2,900 square feet that open to generous outdoor living areas and private terraces. The exteriors, clad in a stunning architectural façade of aluminum composite panels, reinterpret the classical proportions of each residence in a contemporary aesthetic.
Available residences at Gardenhouse are priced from approximately $3.288 million and five model residences are now on display for prospective residents to tour by appointment only. Compass is the exclusive sales and marketing agent for Gardenhouse. For more information, please visit www.gardenhousebh.com or contact Don.Heller@Compass.com to schedule a private viewing.