Most of the 20 Best Places to Retire in California Are in the Bay Area
Fourteen of the 20 California cities ranked as the most retirement-friendly are located in the Bay Area.
Los Gatos, Saratoga, and Campbell all rank in the top five for best places to retire in California.
California's mild climate, diversity, and natural beauty make it an attractive place to retire, but the state has a higher cost of living than other popular retirement destinations like Florida or Arizona.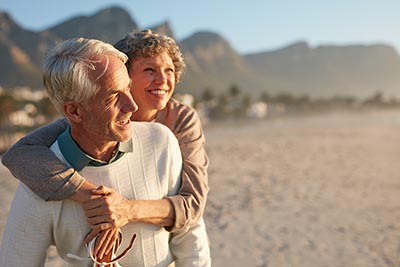 While the Southern California desert might have the state's most residents age 65 and over, Bay Area cities dominate the upper rankings of the top places to retire.
A recent WalletHub analysis ranks more than 250 Golden State cities on a scale of zero to 100 to determine the best places for retirees. The study gauges a city's retirement-friendliness based on 28 criteria in three major categories: quality-of-life considerations, health care, and available activities. The quality-of-life metric — which includes cost of living — accounts for 50 percent of the study's points.
Despite Silicon Valley's high cost of living, three Santa Clara County cities rank among the top five places to retire in California. Los Gatos is the state's second-best place to retire, with a total score of 61.84, followed by No. 4 Saratoga (60.65) and No. 5 Campbell (60.37). Saratoga ranks first in the state for overall quality of life, while Campbell earns the top spot for its health care system.
Fourteen of the top 20 California cities for retirees are located in the Bay Area, including Foster City (No. 6), Mountain View (No. 8), Los Altos (No. 9), San Ramon (No. 11), Palo Alto (No. 13), Sunnyvale (No. 14), Walnut Creek (No. 15), San Jose (No. 16), San Rafael (No. 17), Novato (No. 18), and Menlo Park (No. 19). By comparison, Palm Desert and Palm Springs — the two California cities that WalletHub says have the highest percentage of residents over the age of 65 — do not count among the top 100 cities for retirees, ranking a respective 115 and 170.
Even Bay Area cities that do not rank in the upper echelon of WalletHub's list offer notable perks for senior citizens. Berkeley (No. 71) is the second-best job market in the state for older workers, while San Francisco (No. 91) ties five other California cities for most museums per capita.
WalletHub solicited commentary from five California educators regarding how retiring in the Golden State compares with other popular states such as Florida or Arizona. These experts cited California's relatively milder climate, cultural diversity, and natural beauty as major draws for retirees.
The downside of retiring in California is, of course, its higher cost of living compared with Florida or Arizona. That's especially true in Silicon Valley, with Los Altos, Palo Alto, Saratoga, and Menlo Park ranking among the state's six cities with the highest cost of living.
On a national level, housing affordability kept Bay Area cities from ranking higher in U.S. News and World Report's list of the 100 best places to retire in 2018. Santa Rosa was the highest-ranking Bay Area city on that list, coming in at No. 53.
(Photo: iStock/Jacob Ammentorp Lund)