Pacific Union Again Moves Up the Rankings of the Largest U.S. Real Estate Brokerages in 2018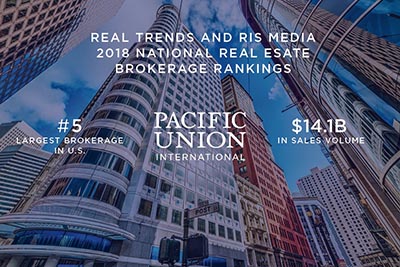 Pacific Union is excited to share the news that our firm has once again advanced on the list of the largest residential real estate brokerages in America, a testament to the hard work and expertise of our elite team of real estate professionals in the San Francisco Bay Area and Los Angeles County.
The latest rankings from noted industry publications REAL Trends and RISMedia place Pacific Union as the No. 5 largest brokerage in the country in 2018, with more than $14.1 billion in sales in 2017, up from No. 8 in 2016. The brokerage grew total sales by 39.3 percent in the past year, while increasing average sales price by 11.4 percent. We are now the largest independent residential real estate brokerage in California, as well as in the Bay Area and Los Angeles County.
Pacific Union has consistently ascended the rankings of the two noted industry publications for the past six years: No. 18 in 2012; No. 14 in 2013; No. 13 in 2014; No. 9 in 2015 and 2016; and No. 8 in 2017. Company CEO Mark A. McLaughlin, who purchased the brokerage in 2009, attributes the company's success to maintaining a focus on culture and recruiting California's best and brightest real estate professionals.
"Nearly nine years ago, we had a vision of returning Pacific Union home, back to the roots of its founders: entrepreneurs; risk takers, and a people-first, results-based culture," he says. "The talented people we have attracted to our organization are reflective of this vision, and each one of us feels a passion for our cause and take pride in our collective accomplishments."
Pacific Union has fueled its significant sales volume growth and expanded its California footprint over the past 15 months through strategic mergers with top Los Angeles brokerages John Aaroe Group, Partners Trust, and Gibson International. The brokerage now has more than 1,700 of California's top real estate professionals in more than 50 offices throughout the state, including a newly opened location in Los Angeles' Hancock Park neighborhood.
The industry has also recognized Pacific Union for its global efforts, with International Property Awards naming it World's Best Real Estate Agency With More Than 20 Offices for the year 2017-2018. Pacific Union has gained significant international traction via its China Concierge program, started in 2013, as well as through a global digital marketing campaign that delivered more than 100,000 overseas impressions to its website.