Peace of Mind Is a Well-Stocked Earthquake-Preparedness Kit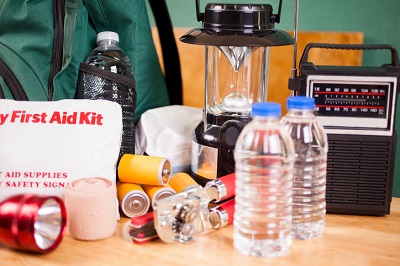 When was the last time you refreshed the supplies in your earthquake-preparedness kit?
What? You don't have one? In one of the most active earthquake zones in the world? You're not alone, of course. It's a fact of life that we all do a better job of reacting to natural disasters than planning for them. But it's another fact of life, safety experts say, that a little bit of planning now will go a long way to ensuring the health and well being of you, your family, and your pets when the next big earthquake hits Northern California. (And you know one is coming sooner or later, right?)
Here is a common-sense list of supplies that you'll want to keep handy for that next earthquake or other emergency, compiled from sources including the American Red Cross, U.S. Centers for Disease Control and Prevention, U.S. Department of Homeland Security, and the California Governor's Office of Emergency Services.
EMERGENCY-PREPAREDNESS KIT
Water: one gallon per person, per day (three-day minimum, two-week preferred)
Food: nonperishable, easy-to-prepare items (three-day minimum, two-week preferred)
Flashlight and batteries
Radio and batteries (even better: a hand-crank radio)
First-aid kit
Medications (seven-day supply)
Multipupose tool, pliers, manual can opener
Sanitation and personal hygiene supplies
Copies of personal documents (medication list and medical information, bank account numbers, computer passwords, inventory of valuable household goods, important telephone numbers, proof of address, deed/lease to home, passports, birth certificates, and insurance policies)
Cell phone chargers and cables
Family and emergency contact information
Extra cash
Emergency blankets
Baby supplies (bottles, formula, baby food, and diapers)
Games and activities for children
Extra set of car and house keys
Matches, duct tape, and scissors
Household bleach
A FEW WORDS ABOUT WATER
Store water in plastic containers such as soft drink bottles. Avoid containers that will decompose or break, such as milk cartons or glass bottles. Change the water every six months.
Household bleach kills microorganisms: Use only regular liquid bleach that contains 5.25 percent sodium hypochlorite — do not use scented bleaches, colorsafe bleaches or those with added cleaners.
Add six to eight drops of bleach per gallon of water, stir, and let stand for 30 minutes. If the water does not have a slight bleach odor, repeat the dosage and let stand another 15 minutes.
Other chemicals, such as iodine or water treatment products that do not contain 5.25 percent sodium hypochlorite as the only active ingredient are not recommended.
EMERGENCY RATIONS
Good bets are ready-to-eat canned meats, fruits, and vegetables; canned juices, milk, and soups; and sugar, salt, and pepper. Choose high-energy foods that will not increase thirst, such as peanut butter, jelly, granola bars, and trail mix.
Plan ahead for infants. the elderly, and persons with special dietary needs.
Avoid foods like rice, pasta and dry beans that require a great deal of water to prepare. Remember to restock your food supplies once per year.
There's no better time for comfort foods: cookies, hard candy, and sweetened cereals.
AN EMERGENCY KIT FOR YOUR PETS, TOO
Essentials include collars, leashes, IDs, harnesses, and pet carriers.
Store ample supplies of food and drinking water, plus bowls and cat litter/pan.
Current photos of you with your pet(s) in case they get lost.
Information on feeding schedules, medical conditions, behavior problems, and the name and number of your veterinarian in case you board your pets.
A LOCAL SOURCE FOR SUPPLIES
Many supplies for an emergency-preparedness kit are available from the American Red Cross and online sources. Bay Area residents also have access to a brick-and-mortar preparedness store: Disaster Supply Center in San Rafael. The store, in business since 1995, stocks three-day emergency kits to store in your home, car, office, and school, plus a wide range of supplies.
Note: This is the first in a series of earthquake-preparedness articles from Pacific Union.

(Photo: iStock/fstop123)