Real Estate Professionals Unanimously Agree on the Importance of Curb Appeal
Ninety-nine percent of real estate professionals say that a home's curb appeal is key to attracting a buyer.
Lawn care is the outdoor home improvement that has the biggest impact on buyers and is estimated to recoup 267 percent of its cost at the time of sale.
Installing a swimming pool is the most expensive outdoor home improvement and also offers the lowest return on investment.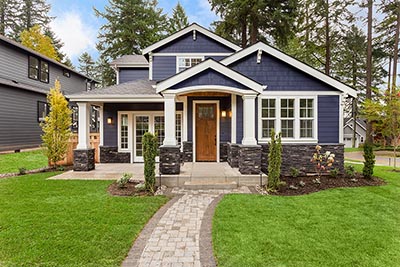 Homeowners who are willing to invest in standard lawn-care services not only stand the best chance of appealing to buyers when the time comes to sell, but they will also turn a profit when they do.
Those are two key findings from the National Association of Realtors' 2018 Remodeling Impact Report, which focuses on 13 popular outdoor home-improvement jobs. The organization surveyed real estate professionals to find out which outdoor improvements have the most appeal to buyers, how much these jobs typically cost, and how much of those costs are typically recouped when a home is sold.
Real estate professionals say that standard lawn-care service — including fertilizing and weed control — will have the biggest impact on potential homebuyers. Lawn-care service costs an average of $375 and is estimated to recover $1,000 at the time of sale for a 267 percent return on investment.
Landscape-maintenance and -upgrade jobs are also important to buyers, according to the survey. Landscape maintenance — which entails mulching, pruning shrubs, and planting — typically costs $3,000 and recoups 100 percent of that when a home is sold. Upgrading a home's landscape, including adding a walkway and stone planters, is a $6,000 job that recovers 83 percent of its cost.
All three of those outdoor improvements boost a home's curb appeal, which 99 percent of real estate professionals believe is important in wooing a buyer. A near equal number of real estate professionals — 94 percent — have recommended that a seller improve a home's curb appeal before puting it on the market.
"Realtors understand that a home's first impression is its curb appeal, so when it comes time to sell, a well-manicured yard can be just as important as any indoor remodel," NAR President Elizabeth Mendenhall said.
One outdoor home improvement that offers zero curb appeal is not only the most expensive, but it also brings in the lowest returns of any of the 13 projects. Installing a swimming pool costs an average of $57,500 but recoups just 43 of that cost — $25,000 — at the time of sale.
(Photo: iStock/hikesterson)