Real Estate Roundup: Bay Area Workers Are America's Happiest
Here's a look at recent news of interest to homebuyers, home sellers, and the home-curious.
SAN FRANCISCO, SAN JOSE EMPLOYEES ARE NATION'S MOST SATISFIED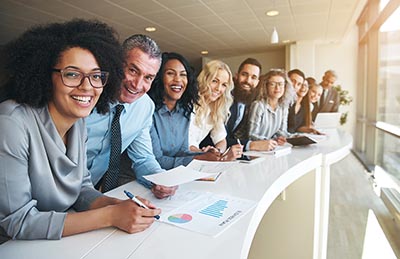 Bay Area workers earn the highest salaries in the nation and have the opportunity to work at some of the world's most innovative companies, so it makes sense that employees here are more satisfied than they are anywhere else in America.
Glassdoor's list of the 10 cities where workers are the happiest puts San Francisco at the top of the heap, with an overall employee job-satisfaction score of 3.6 out of five. The city currently has a total of 232,156 open jobs, the second most on the list. San Francisco workers earn a median annual base salary of $75,000, also the second most of the 10 cities.
Workers in San Jose earn the highest salaries, an average of $100,000 per year, placing it second on Glassdoor's list, with a  job-satisfaction score of 3.5. Currently, there are 106,809 job openings in San Jose. Both Santa Clara and San Francisco counties have some of the lowest unemployment rates in the state as of August according to the latest numbers from the California Employment Development Department, a respective 3.8 percent and 3.5 percent.
Companies hiring in San Francisco and San Jose include tech heavyweights such as IBM, eBay, and Salesforce.com, as well as food-service companies like Chipotle Mexican Grill and Specialty's Café & Bakery.
---
CONTRA COSTA COUNTY CITY MAKES AMAZON HEADQUARTERS PITCH
The Bay Area's three largest cities have already thrown their hats into the ring as the potential location for Amazon.com's second American headquarters, and now Concord has joined the party.
Curbed SF reports that the Contra Costa County city last week announced it was competing to be Amazon's new home, a $5 billion-plus development that is expected to house 50,000 employees. Concord Mayor Laura Hoffmeister proposed that the online retailer take up residence at the city's former navy base, where it is planning nearly 6 million square feet of office space and 12,000 housing units. She also touted Concord's relative affordability when compared with its neighbors.
"Concord is a logical choice for companies of all sizes, especially global brands looking for plentiful office options, often priced at a quarter of what is offered in nearby San Francisco and half the prices in Oakland," she said in the city's press release.
---
SUNNYVALE HOME COMMANDS EYE-POPPING PREMIUM  
Silicon Valley home sellers remain squarely in the driver's seat, with one recent sale proving that buyers are willing to go above and beyond to seal a deal in a tight market.
According to The Mercury News, a four-bedroom home in Sunnyvale recently sold for $2.47 million, $782,000 over its asking price. The home sold in seven days and received 20 offers, many of them also sizable overbids.
Overbids have been a common theme in Silicon Valley's real estate market as of late, with more than 50 homes in the region commanding $200,000-plus premiums over the past month. More than half of those transactions were in Sunnyvale, which is gaining popularity with buyers priced out of cities like Palo Alto and Los Altos.
Although the article doesn't specify the deep-pocketed buyer's occupation, the seller's real estate professional told The Mercury News that technology workers currently comprise a large percentage of buyers in Sunnyvale, and the home is located just 3.5 miles from Apple's new campus. 
---
CALIFORNIA LAWMAKERS PASS AFFORDABLE-HOUSING BILLS
California legislators passed six housing bills late last week, including several intended to ease the state's housing affordability crisis.
The state Assembly passed Senate Bill 2, which would impose a $75 fee on mortgage refinances. The Los Angeles Times reports that the bill is projected to raise $250 million per year, which would build and renovate housing for low-income residents.
The state also approved two other affordable-housing initiatives. Senate Bill 3 puts a $4 billion bond to finance low-income housing in front of voters in 2018, while Senate Bill 35 would remove some development restrictions to promote home construction.
(Photo: iStock/UberImages)