Real Estate Roundup: Home Price Growth Projected to Slow in 2018
Here's a look at recent news of interest to homebuyers, home sellers, and the home-curious.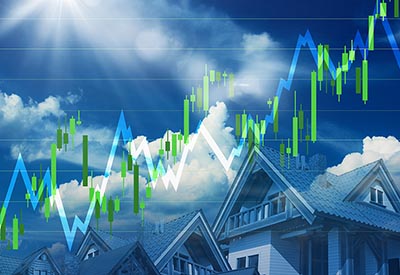 MODEST HOME SALES, PRICE GAINS EXPECTED NEXT YEAR
The national housing inventory crunch is not expected to ease in the coming year, though more new homes should help spur a slight uptick in sales.
In its 2018 Outlook, Freddie Mac projects 6.30 million home sales in 2018, up from an expected 6.18 million this year, which would be the most in a decade. That 2 percent increase will largely be driven by sales of new homes, as sales of existing homes are unlikely to grow due in part to aging-in-place trends.
Freddie Mac expects home price growth to cool slightly next year, from a projected 6.3 percent in 2017 to 4.9 percent. Those projections line up almost exactly with the latest numbers from economists at John Burns Real Estate Consulting, which predicts 6.0 percent appreciation this year and 4.9 percent next year.
Both Freddie Mac and JBREC also have identical projections as to where 30-year, fixed-rate mortgages will be by the end of 2018: 4.4 percent. Freddie Mac projects that rising interest rates will cause refinancing activity to decline to 25 percent of the market by next year, its lowest level since 1990.
---
ONE-DOZEN EAST BAY HOUSING MARKETS ARE IN THE SEVEN-DIGIT PRICE RANGE
East Bay real estate markets have seen their fortunes rise during the current housing cycle, and now a dozen communities in Alameda and Contra Costa counties have median sales prices of more than $1 million.
Citing data from Bay East Association of Realtors, The Mercury News reports that Alamo was the region's most expensive market in August, with a median single-family home sales price of $1,665,000. The other cities in the two counties with $1 million-plus home prices: Orinda, Lafayette, Danville, Moraga, San Ramon, Walnut Creek, Berkeley, Albany, Fremont, Dublin, and Pleasanton.
Inventory in the Alameda and Contra Costa counties continued to decline in August, and BEAR Spokesperson David Stark doesn't see supply levels improving anytime soon.
"With schools in session, there will be even fewer homes on the market," he told the Mercury News.
Buyers priced out of the East Bay's more expensive enclaves might want to consider the Contra Costa County communities of San Pablo, Richmond, Pittsburg, and Antioch, all places where a single-family home can be had for less than $500,000. However, it appears the secret is out, as year-over-year inventory levels have shrunk in those four cities by between 24 percent and 48 percent.
---
FORECLOSURES SEE A LARGER-THAN-USUAL LATE-SUMMER SPIKE
Foreclosure activity typically increases in August as the real estate market takes a breather, but this year's jump was particularly large, with San Francisco posting one of the biggest gains in the U.S.
A new report from ATTOM Data Solutions says that there were 75,115 properties with foreclosure filings last month, a gain of 14 percent from July, the largest such increase in 10 years. Foreclosure activity in San Francisco spiked by 62 percent month over month, second only to Phoneix for the largest increase in the country.
In a statement accompanying the report, company Senior Vice President Daren Blomquist noted that foreclosure filings are down on an annual basis and cautioned against reading too much into the monthly gain.
"While this seasonal increase is certainly not enough to set off alarm bells nationwide, especially given that foreclosure activity was down annually for the 23rd consecutive month in August, there is cause for concern in a few local markets where foreclosure activity has consistently been trending higher on an annual basis this year," he said.
---
MORTGAGE RATES RISE AFTER PROLONGED DECLINES
Mortgage rates have risen for the first time in seven weeks, and more increases are likely on their way later this year.
Freddie Mac says that 30-year, fixed-rate mortgages averaged 3.83 percent for the week ended Sept. 21, up from 3.78 percent the previous week. Fifteen-year, fixed-rate mortgages also saw a 0.5 percent weekly increase, rising to 3.13 percent.
While mortgage rates remain low by historic standards, the Federal Reserve signaled last week that it would raise interest rates one more time in 2017, most likely in December.
(Image: iStock/welcomia)