San Francisco Is the No. 1 U.S. Housing Market for Millionaire Buyers
Households that earn $1 million-plus per year bought more homes in the San Francisco metropolitan area than anywhere else in America in 2016, accounting for nearly 2 percent of transactions.
San Rafael ranks as the third most-popular U.S. housing market for millionaires, who purchased 1.34 percent of homes in the region.
Other top housing markets for $1 million-plus earners include Los Angeles, Anaheim, Salinas, San Jose, Santa Barbara, Oxnard, and San Diego.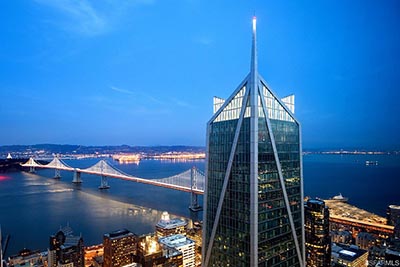 More than one-third of the 25 most popular U.S. real estate markets for households with seven-figure annual earnings can be found in the Golden State, with San Francisco — perhaps not surprisingly — topping the list.
That's according to a new report by SmartAsset, which ranks the top 25 cities where households earning at least $999,000 purchased homes in 2016. Millionaire homebuyers assume roughly three-to-four times smaller mortgage obligations than the average homebuyer.
Coastal California's big-ticket home prices dictate that millionaires here are more active real estate buyers than they are in other parts of the country. According to a separate analysis published by SmartAsset earlier this year, as the most populous U.S. state, California is home to more than 72,000 millionaires, though four East Coast states (plus Washington, D.C.) have a larger percentage of tax refunds filed by households who pull in $1 million-plus each year.
The San Francisco-Redwood City-South San Francisco metropolitan area had the highest ratio of million-dollar-earning homebuyers in 2016 — 1.75 percent of all purchases, representing 158 properties. According to the latest data from the California Association of Realtors, San Mateo and San Francisco counties are the state's two most expensive counties, with respective January median single-family home prices of $1,437,500 and $1,330,000.
San Rafael had the third largest concentration of millionaire homebuyers two years ago, where they accounted for 1.34 percent of activity. Wealthy households in the Marin County seat picked up 27 of the more than 2,000 properties sold that year.
California cities accounted for nine of the 25 American real estate markets with the most million-dollar earners. The rest of the pack by percentage of high-net-worth homebuyers includes No. 5 Los Angeles (0.90 percent), No. 6 Anaheim (0.76 percent), No. 10 Salinas (0.53 percent), No. 12 San Jose (a tie at 0.49 percent), No. 14 Santa Barbara (0.47 percent), No. 19 Oxnard (0.33 percent), and No. 23 San Diego (tied with two Texas cities at 0.27 percent).