Today's Smart Home Gets Smarter (and Weirder) at Annual CES Show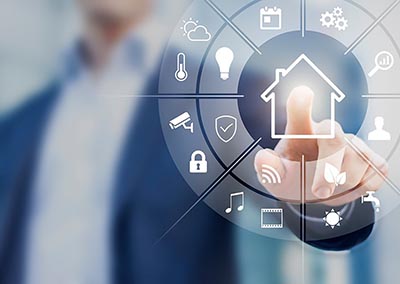 There was a smart refrigerator and a television that rolls up like a yoga mat. There was a $20,000 mattress with a mind of its own, and wallpaper embedded with LED panels. There was a hands-free suitcase that follows you through the airport, a talking toilet, and enough robots to organize themselves into an invading army (yikes!).
In other words, it was another typical Consumer Electronics Show. The annual gadget-fest was held last week in Las Vegas, and it did not disappoint.
To be sure, some of the most provocative devices will never move beyond the concept stage, and others will be doomed to irrelevance. (Recall the Wi-Fi-enabled Crock-Pot and Mr. Marinator of years past.) But analysts walking the show floor said that CES 2018 heralded major advances in artificial intelligence (AI), voice activation, and robotics.
"It's the year of AI and conversational interfaces," a Forrester Research analyst told The New York Times, with Amazon and Google announcing numerous partnerships to turn ordinary electronic devices into intelligent, voice-controlled tools that answer questions, adjust settings, and actually learn users' preferences over time.
The smart home that seemed far off just a few years ago is becoming more familiar with every CES show. Nest Labs, a pioneer in smart-home technologies that partnered with Pacific Union last year, announced recently that it will use the voice-activated Google Assistant to operate thermostats, cameras, lights, and alarm systems — live or remotely. Hundreds of vendors at CES 2018 showed off new technologies for every room of your smart home.
Here at Pacific Union, we're eager to absorb everything that we can about the latest smart-home tools, but we're experts in real estate, not electronics. If you'd like to learn more about the cool new products at CES 2018, we suggest the following resources from some of the smartest minds in the tech business:
(Image: iStock/NicoElNino)