What Are Silicon Valley's Highest-Paying and Most In-Demand Tech Jobs?
Directors of product management are Silicon Valley's best-compensated tech workers, earning average annual salaries of nearly $187,000.
Software test engineers are the most sought-after employees in Silicon Valley in 2018.
For the second year in a row, Apple is the most active hiring company of tech workers in the region.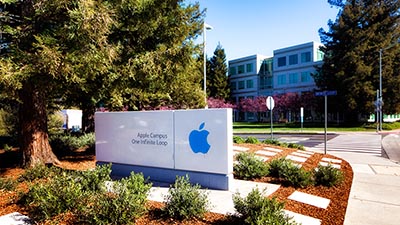 Tech-job openings in Silicon Valley have risen by more than 10 percent year over year in 2018, and while engineers are some of the industry's best-compensated workers in the region, they do not take home the largest salaries.
That's according to an analysis by job portal Indeed, which examines tech-industry job openings, salaries, and company hiring activity in Silicon Valley from November 2017 to November 2018. The report says that tech-job listings in the region increased by 12.9 percent over the past year after declining by 5.4 percent the year before that.
Half of the 20 most in-demand jobs in America's technology hub seek engineers and developers, with software test engineer at the top of the heap. Java is the most often listed skill, appearing in 27 percent of Bay Area tech job advertisements, followed by Python (25 percent), and JavaScript (18 percent).
Similarly, engineering jobs account for nearly half of Silicon Valley's 20 best-paying vocations, with annual salaries ranging from $181,100 to $148,098. But the highest-compensated workers in the region are product-management directors, who pull in average annual wages of $186,766 thanks to their blend of technology and business skills.
For the second year in a row, Apple is Silicon Valley's most active hirer of tech talent in 2018, with jobs at the firm accounting for 4.2 percent of all postings in the industry. The top 20 companies who are seeking the most tech workers include most of the Bay Area's usual suspects, including Google, Facebook, Oracle, Salesforce.com, and eBay.
Customer-relationship-management software giant Salesforce.com is hiring for the most tech roles in San Francisco proper, followed by Amazon.com and Twitter. In San Jose top hirers include Cisco and PayPal, while Pandora and Marqeta are two of the most active in Oakland.
Regardless of their chosen industry, Californians who prioritize their careers will find a lot to like in the Bay Area. Earlier this month, rankings from WalletHub put 16 Bay Area cities among the state's 20 best job markets, with Contra Costa County's San Ramon coming in at No. 1. And according to the latest numbers from the California Employment Development Department, seven of nine Bay Area counties boasted unemployment rates of less than 3 percent in October.
(Photo: iStock/NicolasMcComber)