What to Do When an Earthquake Strikes? Drop, Cover, and Hold On.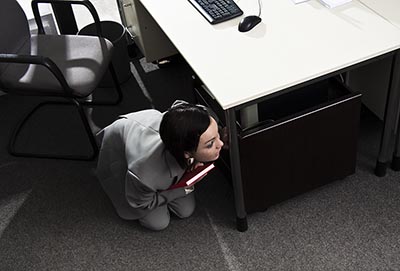 There's nothing like an earthquake in the middle of the night to make you jump out of bed. Once you realize that nothing is damaged and everyone is safe, you then start to reassess your emergency-preparedness plans. Thursday's 4.4 temblor in Berkeley was another reminder that earthquakes are a fact of life in California.
So what should you do during those scary moments when a significant earthquake strikes? And what should you do when it's over?
State and federal agencies have a wealth of information for Californians (links are below), but our favorite all-in-one preparedness resource is the Earthquake Country Alliance (ECA), a public-private partnership. Its advice, in virtually all instances during an earthquake, is to drop, cover, and hold on.
DROP, COVER, AND HOLD ON
A page on the ECA website states: "Official rescue teams from the U.S. and other countries who have searched for trapped people in collapsed structures around the world, as well as emergency managers, researchers, and school safety advocates, all agree that 'Drop, Cover, and Hold On' is the appropriate action to reduce injury and death during earthquakes." Standing in a doorway, running outside, and the "triangle of life" method are considered dangerous and not recommended. Instead:
DROP where you are to your hands and knees, which protects you from being knocked down and allows you to stay low and crawl to shelter.
COVER your head and neck with an arm. Crawl underneath any nearby sturdy table or desk. Otherwise, crawl next to an interior wall that is not near windows. Stay on your knees and bend to protect vital organs.
HOLD ON until the earthquake is over.
The ECA website offers guidance on what to do in specific situations — indoors, in bed, in a high-rise, in a classroom, in a store, outdoors, driving, in a theater — and for people with disabilities.
PLAN AHEAD
Make plans now to reconnect and recover after an earthquake:
Pick a place to meet family or friends when the earthquake is over.
Designate a contact person who does not live in the area.
Provide all family members with a list of important contact numbers.
Assess your potential living situation if your home cannot be occupied after an earthquake.
Know about your children's school or day-care facility earthquake plan. Keep emergency-release cards up to date.
Keep copies of essential documents — such as identification, insurance policies, and financial records — in a secure, waterproof container, along with your disaster-supply kits. Make a list of your possessions and photograph them.
RESOURCES
Editors' note: This is the third in a series of earthquake-preparedness articles from Pacific Union. The first article offers tips on stocking an earthquake-preparedness kit. The second is a primer on earthquake insurance in California.
(Photo: iStock/Thomas_EyeDesign)