Where We Are Now: April 27, 2020
Work From Home — Day 42
Resource Rich
4:51AM PST
Team –
Over the weekend, two dozen people responded to our Unicorn Closing Bell e-mail asking if Eric Altree had recovered from the Coronavirus. I should have shared on Friday that Eric is indeed healthy. In fact, I was out mountain biking Friday late afternoon and ran into Eric biking as well.
If you did not see 60 Minutes last night, I suggest you watch it!
Remember to sign in for The Path Forward, Tuesday 2PM PST. Our agenda:
Welcome & perspective.
Federal & state relief program updates.
Four high impact real estate stories.
Marketing's magic.
SIP status by county in CA.
Q&A.
Economic perspective & our curves!
Last week, we closed twelve deals over $2 million. Several of these closings were via virtual home tours.
Congratulations to:
Eric Altree & Val Steele – $19.5 million from our San Francisco office.
Lisa Kirshner – $6.7 million from our Brentwood office.
Jane Gavens – $6.6 million from our Beverly Hills office.
Marilyn Rich – $4.7 million from our Ross office.
Craig Strong on both sides of $4.6 million from our Toluca Lake office.
Hilary De Puy [buyer's side] and Hillary Ryan [listing side] on $3.4 million from our Napa office.
Wendy Kandasamy, reSolve Group – $2.8 million from our Palo Alto office.
Tom LeMieux & Jennifer Bitter – $2.4 million from our Menlo Park office.
Philip Watson & Stephen Marshall Team, each with $2 million closings from our Burlingame office.
Lynn Finnegan – $2 million from our San Francisco office.
Amy Sawday Kramer – $2 million from our Santa Rosa office.
This week, our focus will be on the deep resources available to all of us – we are so fortunate to be a resource rich organization. As we prepare for the incremental relaxation of SIP, those that execute well will migrate from good to great!
Two links for you to review in advance of our coaching:
See you Tuesday @ 2PM on The Path Forward.
This is Where We Are Now.
Thanks!
Mark
Mark A McLaughlin
Work From Home — Day 42 — Closing Bell
Pending, Closing and Cancellations
6:00PM PST
Team –
We lost twenty-four (24) closings from Thursday evening to Monday evening. Still projecting over 500 April closings in the seventh week of SIP. I find the consumer's resolve tenacious. We are diving into the details of these twenty-four deals. I suspect it's primarily pushed to May as a result of lender and closing related issues.
The Path Forward tomorrow at 2:00PM PST will be exceptional. We have eight presenters who will all inspire different attributes of success in our current state. I will open and close with some macro-economic observations that may simplify our realities.
The content should help you manage through the noise of the market. Our agenda: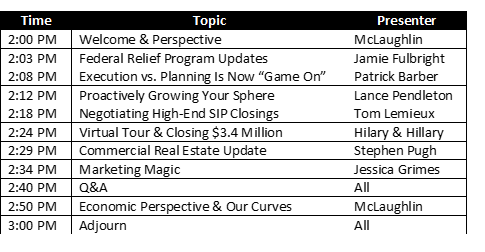 One of your takeaways from tomorrow's Path Forward will be that your marketing plans, sphere growth planning, and outreach should be in full action mode. If you are not, your first call Wednesday morning should be with your local manager and then to a partner with whom to practice daily and weekly business development accountability.
Tuesday's morning e-mail will be a very personal note from Jessica Grimes, VP Marketing. I enjoyed the pre-read and I know you will as well. It's really nice getting to know each other in these special times.
This is Where We Are Now.
Thanks!
Mark
Mark A McLaughlin