Where We Are Now: April 29, 2020
Work From Home — Day 44
Information is Free – Knowledge & Advice=Priceless
5:00AM PST
Team –
Frequent questions I field surround "disintermediation." The fear that technology or discount will replace our role in real estate.
First know, Compass has bet big that the real estate professional not only survives but thrives and excels at the center of the real estate transaction. Second, know coastal California is a unique real estate market, like no other in the USA, maybe the world.
The fear of disintermediation is not new to our industry or to real estate in general. Can a .com, #, @ or well-funded "disruptor" replace our advisory role to our clients? Our respected role is one of trust.
I believe the disintermediation premise comes from the fact that information is free. Real estate information is everywhere. It's an exhaust from multiple businesses and consumer demand that information is free.
Don't try to swim upstream from this position. Graveyards are full of these business plans [aka: hope tickets].
I first wrestled with disintermediation from 1998 to 2001 as a key executive at LoopNet.com [acquired after going public by NASDAQ: CSGP]. This is a PPT slide we used in July 1999. Twenty-one years ago!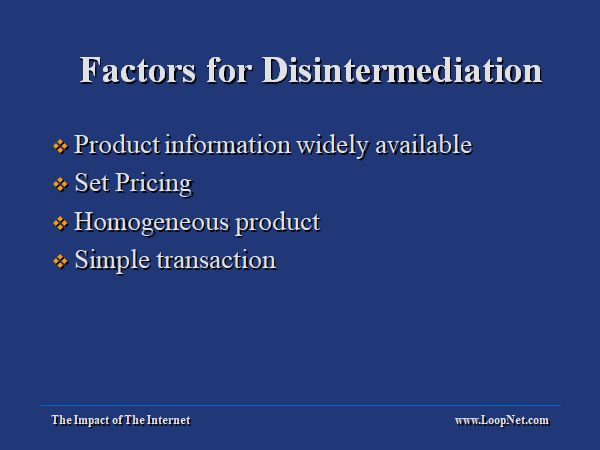 These four attributes are required for disintermediation. Think through these via a lens of reading glasses, airline tickets, a set of golf clubs, or designer shoes. All four fit in the thoughtful practice of "I can review inventory online, pricing is transparent, products are generally similar, and the transaction is relatively simple."
None of these attributes are present in our industry, except information is, and always will be free, but that is not on this PPT slide. By the year 1998, information was and always will be free!
That's where disintermediation stops, and your role begins.
We are not "agents" serving "customers." We are advisors serving clients. Customers go to grocery stores. Clients seek advisors. Advisors are valued based on their knowledge, not their information.
Think about residential real estate and the above slide:
Product Information: Sure, the MLS has inventory, but 20 percent of our trades in 2019 were not on MLS. Take 20 percent of the trades out of the NASDAQ and it's not a reliable source. Your local knowledge is powerful!
Set Pricing: Sure, the MLS has listing prices, but your knowledge will define for your client where to land their offer or where to list their house based on a local strategy. It's not a commodity like an airline seat or eyeglasses.
Homogeneous Product: Other than in a new development, have you ever seen two homes with the same bed/bath count, improvement detail [or lack thereof], views, price, etc.? Doubtful.
Simple Transaction: Ever had one? Bring 'em on! Not in this market.
You are a team of exceptional professional advisors. You have earned the respect of your personal sphere. Your clients are your most amazing source of inspiration as you thrive to fulfill their dreams and create their homes, versus buying or selling their houses.
Lead with your knowledge and advice. They are priceless in a world of free information.
Thursday morning's email will be about my LoopNet experience of out-executing the well-funded competitor. The story is relevant for your business today.
Friday's writing seems so far away.
I love this journey with this team. We will outperform all curves!
This is Where We Are Now.
Thanks!
Mark
Mark A McLaughlin