Where We Are Now: July 6, 2020
Work From Home — Day 108
July is jumping!
5:14AM PST
Team –
On Monday June 8, WFH Day 80, I dialed back my daily writings on Where We Are Now. It was the right decision and driven by respect for our citizens and our nation's rapid push to heal racial inequality.
Over the past 30 days, we have witnessed a movement, the magnitude of which has likely not been seen since the days of Dr. Martin Luther King. I'm proud of our team's next steps.
We are engaged in the Compass Anti-Racism initiative led internally in California by Alexis Stewart in NorCal and Vince Foley and Chatty Arrieta in SoCal The goal is to raise awareness, dismantle both overt and subtle racism in the workplace, as well as develop a list of resources to help educate our Compass family on understanding the transgressions of the past and what meaningful change looks like today.
This is our start! While our start is fresh, I feel it has legs, which is again a tribute to your passion for the cause of equality. More on this forever.
Since my last writing, I have had a few hundred requests to finish "the story" and many more to request the ongoing publishing of our new escrow and closing results.
At 5PM today, via The Closing Bell, we will publish results for June actuals, July bookings and we will update the Curves chart. You will be proud of your performance and our expectations for July and beyond.
Since WFH Day 1, the most impressive attribute of our team has been your tenacity. This tenacity was complemented by the confidence of your clients in pursuit of their dreams for a home!
We will not return to daily WFH writings, but we will be back in a consistent fashion.
Quick congratulations are in order:
Chartwell Escrow for their acquisition of Vicente Escrow and a wonderful welcome to our southern CA family of escrow services.
Jessica [Frushtick] Grimes on her promotion to Chief Marketing Officer at PUI. Jessica has been our brand strategist and execution leader for the past eight years. Jessica pushes the limits on our marketing presence every day.
Where we left off on "our journey" was three specific writings about our acquisition of Pacific Union in 2009. The first The Beginning of Our Journey, the second Setbacks Hurt-Again., and the last Another Setback – But an Amazing New Partner. Feel free to catch up at your own pace.
Wednesday morning, I will finish the Pacific Union closing story. Shortly thereafter, I'll follow with two stories of overcoming adversity. One financial and one physical – I am hopeful they are motivating.
We will then continue consistent, but not daily, writings on our view of the future of our industry, how COVID has dramatically changed it forever and how to embrace and thrive in this systemic change.
COVID has given us/you "cover" to make nearly any business decision that might have been uncomfortable before. It has given us family and safety FIRST. It has reset boundaries – personal and physical. It has given us the dream of the ideal home.
Finally, it gives us an opportunity to excel, advance and outperform average, normal and expectations to set our own bar higher than ever as the good become great!
As greatness approaches in life, let's remember to give back more than our fair share!
This is Where We Are Now.
Thanks!
Mark
Mark A McLaughlin
Work From Home — Day 108 — Closing Bell
3:00PM PST
Team –
As you well know, our real estate world is rocking! As you predicted in our COVID surveys, the delayed spring season is now happening. We further seem to have increased demand as a result of clients changing their housing priorities.
It is wonderful to see our Commercial brokerage business with back-to-back excellent months. In addition, Southern California is now coming on strong, closing an unusually wide June gap vs. Northern California. We will look for this gap to close even tighter in August – normal would be 60 percent Northern and 40 percent Southern California.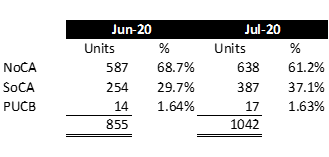 We have once again updated our Curves chart, originally published March 31, 2020. Our original forecast was the red line. Our July 6 forecast is the purple line. Your tenacity and your clients resolve have permitted us to outperform our original expectations – below and attached. AMAZING!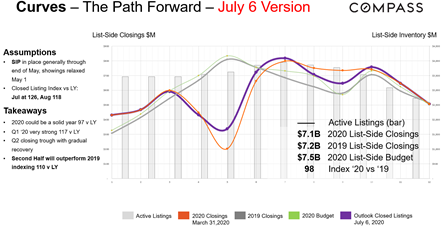 This is Where We Are Now.
Thanks!
Mark
Mark A McLaughlin