Where We Are Now: March 23, 2020
WFH Day 8 — People, GDP & The Mortgage Business — 5:10AM
Team –
I joined the residential brokerage business in 2006. At social events (back when we used to have them), I always answered the question "what do you do?" with a simple response, "I run a real estate brokerage company." That said, I am not in the real estate business, I am in the people business. You are all in the real estate business. I have always subscribed to a simple statement: If we don't get the people right, nothing else matters. Our leadership team is keeping our focus on you!
This too shall pass. I did some research today on GDP since the great recession, from 2008 – 2009. While 2009 itself was very rough, the steady, year-over-year change in GDP averaged over 2%.
2019 USA GDP was $21.7 trillion. The Fed seems to be considering between $2 – $4 trillion in economic stimulus – this is between 10% and 20% of total USA GDP. This is massive and will make a difference in our economic recovery.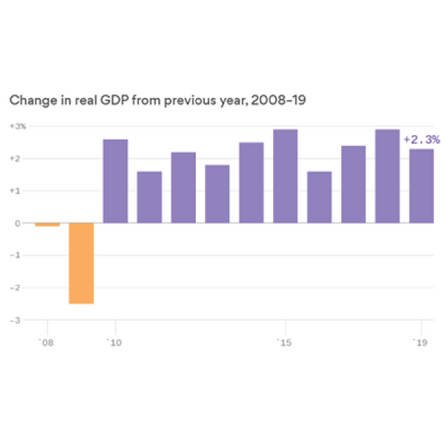 Yesterday, I interviewed the CEO of one of USA's largest independent mortgage banks. His 2019 loan volume was $4.8 billion across 80 offices in the USA. Here are the highlights, again I'll be brief. We have three basic channels of mortgage products in the USA:
Federally guaranteed mortgages like Fannie, Freddie & Ginnie
Large depository banks like Wells, Chase, BofA and First Republic
Non-banks who "make a market" and then securitize / sell loans to the secondary mortgage market.
Feds are expected to announce today new guidance on virtual appraisals. In addition, Feds will buy ALL production that comes their way via Fannie, Freddie and Ginnie Mae.
Large banks are very healthy and will likely continue lend conforming and jumbo products at exceptional, but not rock bottom rates.
The non-banks, if not already, will very, very soon be completely withdrawn from lending as their investors have no bid to buy the loans.
What this means to you in the field, is like in 2009 – 2012, the pre-qualification/approval letter should be either for a "conforming loan" or from a large depository bank who has capacity as a portfolio lender (keeping it on their balance sheet).
The refinance business will likely rage for the next 60 – 90 days!
Whether representing a buyer or seller – dig deep on details of the loan approval letter.
This will be another wild week. Volatility in the equity markets will be normal. It's very important to stay connected with family, friends and your co-workers.
On Saturday afternoon, my parents, sisters, children and nieces / nephews shared a Google Hangouts. I am a believer! We laughed, shared grocery store experiences, and generally hung up in a happier mood. It was a great way to socialize while sheltering in place. 
Finally, remember to meet people where they are, which means really listening hard.
Mark A. McLaughlin
Closing Bell — WFH — Day 8 — C.A.R. Perspective — 5:50PM
Team –
Today was exciting! What will tomorrow bring? 
One of my early calls this morning was with Joel Singer, CEO, C.A.R. and Sara Sutachan, VP Industry Relations, C.A.R. Like you, they are working double time to pave our path, when safe, to be an "essential service" and make sure our industry gets every consideration for State and/or Federal relief. If there is ever a time that I feel we are in the best of hands with C.A.R it is RIGHT NOW!
Our conversation was fluid and focused. Joel and Sara confirmed C.A.R.'s focus on the following:
Lobbying for Relief and Benefits for Independent Contractors and Brokerage companies.
Preserving every ability to keep real estate virtual closings as an "essential service."
Keeping County Recording offices open or fluid e-filing.
Requisite approvals for virtual signings and notary services (see below).
It's fascinating to listen to Joel and Sara and realize in 8-10 days, working from home like the rest of us, what amazing energy and progress CAR is dedicating and achieving. A high-five to CAR! Joel and Sara signed off the call by saying, "if you have ideas, we want to hear them." Below are several initiative descriptions Sara shared with me after the call. Answers to many of your questions are likely in these paragraphs or online via the appropriate links!
Online Notary Services
C.A.R. is actively and aggressively trying to push forward legislation to allow for online notary in CA so that Realtors can continue to do business and serve clients in need. CAR is working with NAR to have a federal solution that would permit the use of online notary by CA Realtors. CAR, in coalition with other real estate groups, requested the CA Secretary of State who has concerns about online notary to not oppose such efforts.
CAR Microsite:
Relief for Independent Contractors
As independent contractors REALTORS® do not have access to the safety net of unemployment benefits afforded to millions of others during this crisis.
On March 19th, we sent a letter to the California Congressional Delegation to ask Congress to include in the next bill addressing the coronavirus crisis and forgivable SBA loans for self-employed independent contractors. Under California's order real estate sales, rental leasing, and all the ancillary industries directly involved in each sales and leasing transaction will come to an immediate halt. An SBA loan, even with zero interest rate will do the majority of independent contractors no good if they are unable to perform their work to pay the loan back. CAR and NAR ask Congress for aid for REALTORS® 
Additionally, thanks to the first round of stimulus (Coronavirus Preparedness and Response Supplemental Appropriations Act) — our members are qualified if they are "small businesses" as defined by COVID-19 since Jan. 31, 2020. They can apply online for these Economic Injury Disaster Loans (EIDL) SBA Disaster Loan Assistance
Thanks!
Mark
Mark A McLaughlin