Where We Are Now: May 14, 2020
Work From Home — Day 59
MUST READ — Second SIP Survey Results
5:30AM PST
Team –
Our marketing team and all of you are amazing. As of 8PM last night we had 887 responses to our second SIP Market Dynamics Survey. The results are in. This team rocks on participation when called upon. We thank you collectively!
The table below illustrates your opinions. Before the results, which are encouraging. Being encouraging is part of our profession. But our fiduciary responsibility is broader and advisory in nature.
While I have read maybe two books since college 40 years ago, I have an insatiable desire for learning. I simply don't do learning by reading. I do it by listening, watching, and processing. The "why" is not important in this exchange.
We all wrestle with the distraction of "noise." We have talked about this enough.
Facts are, we are nowhere near a sustainable recovery. Opening SIP too early will cause a round two, and longer SIP. A former member of Kristin Cashin's team [Menlo Park] is gracious and sends me exceptional research reports. In the most recent, Wall Street strategist Kiril Sokoloff talked about the Federal government's debt levels on a historical basis. Not encouraging at all.
In addition, we have specific feedback from Dr. Fauci himself.
I feel it's my responsibility to contribute the good, the bad, and the ugly. You read more than I do so let me know your thoughts.
So on to our 2nd SIP Market Dynamics Survey. All responses reflect on questions asked about conditions that have changed since May 1, 2020: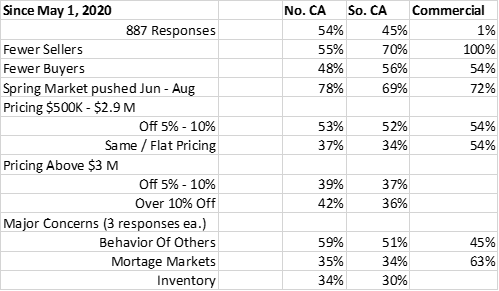 If ever in my life been thankful for our teammates and professional staff, it is right here and right now!
I can not imagine this crisis, journey, and our recovery with a better team. We are in a relatively amazing place. We are sharing every piece of information we believe you may want.
Tonight's Closing Bell will be about our revised 2020 outlook.
This is Where We Are Now.
Thanks!
Mark
Mark A McLaughlin
Work From Home — Day 59 — Closing Bell
Pendings, Cancellations and Closings
6:45PM PST
Team – 
Don't miss our 2nd SIP Market Dynamics Survey Results – 900 professionals participated – impressive!
A few learning moments for me today – charged my phone twice – that is new too, but I am staying connected.
Pasadena Sales Meeting this morning – Kevin Bourland shared a perspective on how eliminating caravan/broker tours and open houses has slowed the velocity and dynamics of selling a property. No longer can 10 real estate professionals or 10 buyers see a property simultaneously. The process has become linear. If ten parties want to see a property, it could take ten hours. Even more important, the private nature of the showing does not breed competition. Think it through – it's different now.
Pre-Marketing Home Improvements – Several calls today about the constraints of home improvements with one trade/vendor at a time in the home + social distancing vs. previous practices of all hands on deck, let's get it done! Think it through – it's different now.
We have a conscious sense of confidence in our May closings. They could be 100 percent better than expected compared to our original SIP forecast on March 31, 2020. We are refining the numbers real-time and will update everyone on the Path Forward Tuesday @ 2PM. One month does not make a difference. We need to see June come alive as well!
Our Path Forward on Tuesday will focus on four topics:
Clear Cooperation and Private Exclusives
The Mortgage Markets 
Our Year End Outlook
Curves
Q&A
Please take a moment to appreciate your local professional staff. From my vantage point, they are doing everything possible to make our new normal feel normal. A few words of appreciation can go a long way.
Tomorrow morning I have a summary of a webinar I participated in today with General, and the 26th Secretary of Defense, James N. Mattis.
This is Where We Are Now.
Thanks!
Mark
Mark A McLaughlin