Nob Hill Neighborhood
---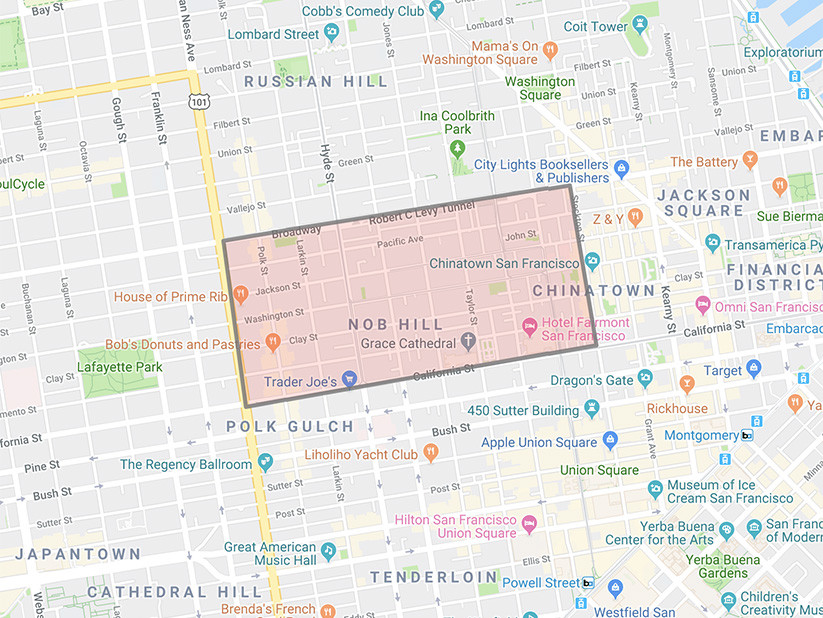 ---
Elegant and swanky, Nob Hill is full of grand hotels bordering Huntington Park and imposing mansions. Nob Hill is home to old San Francisco, perched on a steep slope made accessible in the 1870s by the California Street cable car, which still runs through the heart of the neighborhood. The descendants of San Francisco's founding families still frequent their private clubs here, including the gentlemen's only Bohemian Club.

Neighborhood homes for sale are among the most desirable in all of San Francisco. Baronial wealth is still on display here. Pre-war luxury apartments, decorated with wedding-cake facades, are scattered throughout the neighborhood.

The heart of Nob Hill is Huntington Park and its iconic, 10-foot tall Fountain of Tortoises. Plenty of benches around the classic urban square provide a welcome rest for those who hike up the hill. A children's playground is a hidden gem.

The massive stone edifice of Grace Cathedral represents the Episcopal soul of the community. The Cathedral upholds a strong social-justice program, hosts vocal concerts, and maintains an outdoor labyrinth where locals pace its inlaid stone path in meditative silence.

Despite its steep streets, Nob Hill is an extremely walkable neighborhood with the feel of an urban oasis. Bounded by the upscale boutiques of Union Square, the hubbub of Chinatown, and the nightclubs of Polk Street, Nob Hill is within walking distance to the Financial District and Downtown. Muni bus lines that serve the area include the 1 California and the 30 Stockton.