West Portal Neighborhood
---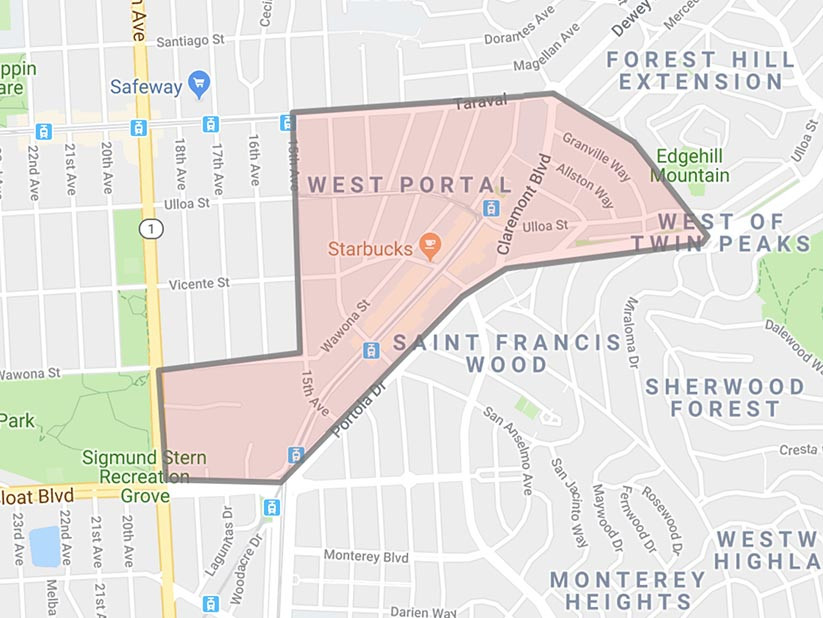 ---
Family-friendly West Portal was originally developed as a suburb of San Francisco's downtown. The neighborhood's building boom began in the 1920s with the opening of the light-rail tunnel under Twin Peaks. Residential housing along the hilly, wooded streets predominately consists of single-family detached homes.

West Portal's shopping district is compact and comprised mainly of mom-and-pop stores, neighborhood taverns, and family-style restaurants. Eezy Freezy grocery market and the CinéArts at the Empire theater have been doing business for decades. Ambassador Toys, with its handpicked selection of playthings from around the world, and Squat & Gobble restaurant are also neighborhood fixtures.

Catching a Muni from West Portal is never a problem. Three light-rail trains -- the KT-Ingleside/Third Street, the L-Taraval, and the M-Ocean View -- trundle out of the West Portal tunnel at the foot of Twin Peaks, connecting this neighborhood to San Francisco's Market Street and downtown.