Woodside Neighborhood
---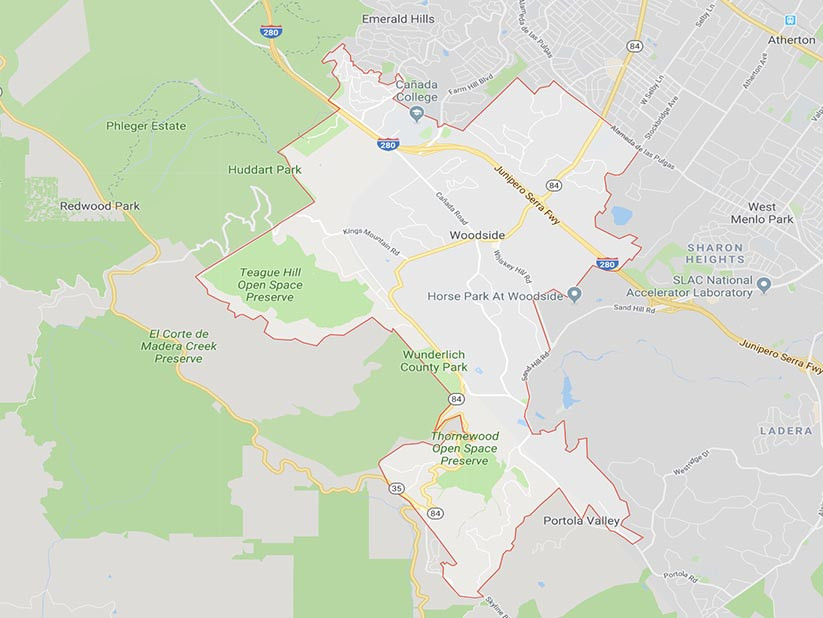 ---
Woodside is a small incorporated town in San Mateo County, California, United States, on the San Francisco Peninsula. It has a council–manager system of government. The population of the town was 5,287 at the 2010 census.[7]
Woodside is home to many horses and is among the wealthiest communities in the United States. The median household income in the town is $212,917, and the median family income is $246,042.[8]
The Woodside area was originally home to natives belonging to the Ohlone tribe. In 1769, led by Gaspar de Portolá, Spanish explorers searching for San Francisco Bay camped at a site near Woodside.
Woodside is located on the Rancho Cañada de Raymundo Mexican Land grant. Woodside is said to be the oldest English-speaking settlement in the southern part of the San Francisco Peninsula. The first English-speaking settlers arrived in the early 19th century to log the rich stands of redwoods. Charles Brown constructed the first sawmill in Woodside on his Mountain Home Ranch around 1838. Brown's adobe house, built in 1839, still stands today.[9] By mid-century, the Woodside area had a dozen mills producing building materials for a booming San Francisco.
In 1849, during the California Gold Rush, 20-year-old Mathias Alfred Parkhurst purchased 127 acres (0.5 km2) of timberland and named it "Woodside"; of course, this name was kept. By the late 19th century, Woodside was home to country estates. The Sequoia Redwood trees in Woodside are currently 3rd generation growth. The first generation of the Redwood trees were used to build San Francisco original homes. After the 1906 San Francisco earthquake, the loggers returned to Woodside to cut the second growth of redwood so they could be used for the rebuilding of San Francisco.
In 1909, the Family, a private club, set up camp facilities and rustic buildings in Woodside at the Family Farm, a rural retreat used by club members for recreation. Gatherings at the Family Farm include an annual Farm Play, written and performed by members. In 1912, the Family pooled funds to build Our Lady of the Wayside Church in Portola Valley, designed by 19-year-old Timothy L. Pflueger, his first commission.[10] The historic building was repaired at a cost of US$600,000 after the 1989 Loma Prieta earthquake.[11]
Woodside was incorporated in 1956 to prevent urbanization, and it still retains a rural residential character, though it is a short commute to Silicon Valley.