Noe Valley Neighborhood
---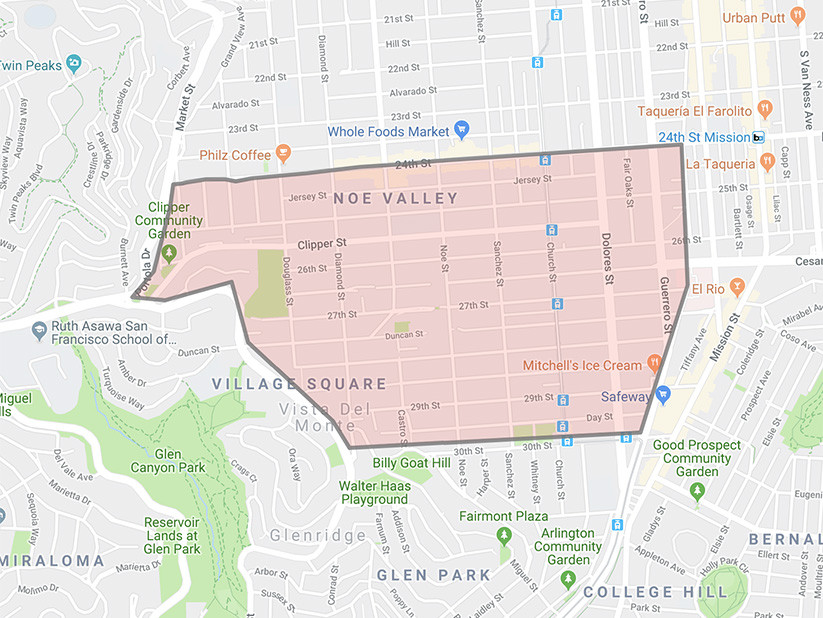 ---
Popular with families for its suburban, laid-back vibe, central Noe Valley is conveniently located near freeways and public transportation.
Boutiques are plentiful in Noe Valley. With confectioneries like Noe Valley Bakery and restaurants such as Griddle Fresh and Firefly, the neighborhood is a paradise for foodies. Thanks to the Noe Valley Farmers Market, locals never have to leave the neighborhood to get their fix of fresh organic vegetables, fruit, and honey.
Noe Valley is a short drive from both Interstate 280 and Highway 101, convenient for residents who commute to Silicon Valley. The J-Church light-rail train is the neighborhood's most favored public-transportation option, though several Muni bus lines also serve Noe Valley.

The neighborhood has its share of nightlife, from the dive bar Valley Tavern to the awesome selection of imported beers at The Dubliner. For live music, check out Noe Valley Ministry, a venue for world-class performers in folk, world music, and the alt-rock scene.