Potrero Hill Neighborhood
---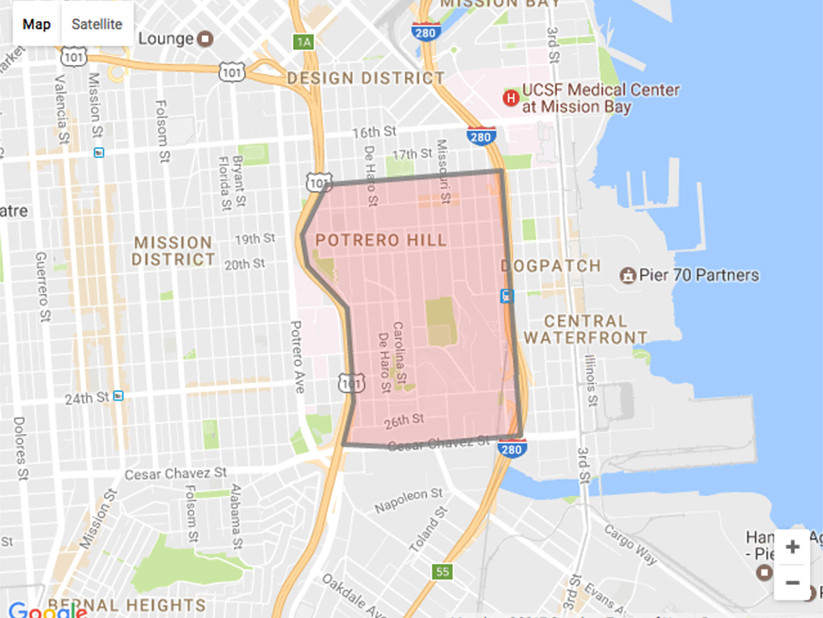 ---
For decades, Potrero Hill remained one of the best-kept secrets in San Francisco. Shipyards and working docks on one side of the hill, and bakeries, breweries, and warehouses on the other gave a decidedly blue-collar appearance to this quiet neighborhood. As South of Market was colonized by the dot-com explosion, the former warehouses and factories were converted to office space and live/work lofts. San Francisco high-rises sprang up along the 3rd Street corridor, and Potrero Hill became a happening neighborhood. Browse Pacific Union's selection of Potrero Hill homes for sale.

Today, Potrero Hill has lots going for it besides its location, sunny weather, killer views, and easy commutes to Downtown or Silicon Valley. Potrero Hill homes for sale are comprised mainly of single-family Victorian homes, many of which withstood the 1906 earthquake. Shops along 18th Street include Chez Papa Bistrot, which offers some of the best French Provencal bistro cuisine on this side of the Atlantic. Blooms Saloon, named after the heroine of Ulysses, is a classic bar, offering pool tables and jaw-dropping views of the city at night. Long-time, come-as-you-are favorite community coffee shop Farley's makes java strong enough to cut through any fog.

At the foot of the hill the scene is a lively mix of students at the California College of the Arts campus and the California Culinary Academy, with local bar Bottom of the Hill hosting up-and-coming music acts. A Whole Foods Market has recently opened in the neighborhood.